Canfield to Spades Ride (2016)
14 riders turned out for PANTRA's Canfield to Spades group ride which ended up being a little more of an adventure than anticipated.  We left the Nettleton Gulch parking lot at 10:15 and made our way up and out of Canfield via trail 8, 9, D, and 28.
The last section of trail 28, before it intersects with trail 802, had a few trees (5) blocking the trail that we cleared.  After reaching and crossing 802, we continued on trail 28 until we were turned back by more downed trees than we could count.  It would of taken us hours and hours to clear 28 so we continued on trail 802 until we reached Burnt Cabin Saddle and stopped for lunch.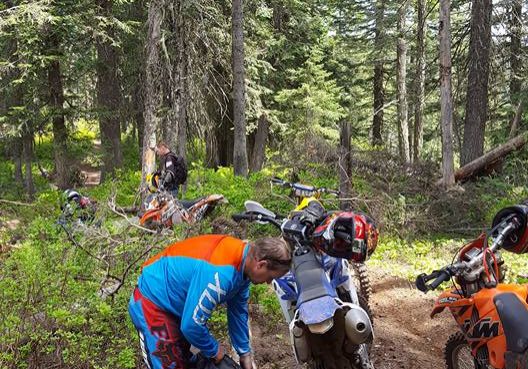 While enjoying our lunch and conversations, a rider not with our group was leaving Burnt Cabin Saddle up 802 and decided to jump the large Kelly Humps at the start of the trail.  He launched off the first one, cleared the second, but would have cased the third if he hadn't looped out.  The end result, he broke his leg and was in so much pain he could not get up.
Our group did what we could to help and waited with him until the Back Country Sheriff got there.  Even though the Sheriff is not allowed to move an injured rider, we knew he would be in good hands until the ambulance got there so we decided it was safe for us to leave.
Because of the injury delay, we were running behind our anticipated schedule and several in our group needed to be back at a certain time.  Therefore, the group split at Burnt Cabin Saddle where some went back to Nettleton Gulch.  8 of us continued on to Spades and finished the 45 mile Canfield to Spades loop and made it back to the parking lot with smiles on our faces at 4:45.
What a fun ride it turned out to be with a great group of riders!
Come join us on PANTRA's next group ride so you don't miss out on your next adventure!!