Idaho Non-Resident OHV Legislation (pay-to-play fee)
With your help, support, and letters, we did it! Idaho House Bill 509 (OHV pay-to-play legislation) FAILED in the Senate. After passing in the House 57-11-2, the bill failed in the Idaho Senate 14-20-1 because of you! THANK YOU!!
Rep. Terry Gestrin, R-Donnelly, brought forward Idaho House Bill 509.  The Bill will charge out-of-state off-road vehicle riders for using trails in Idaho.
Terry Gestrin legislation is the same one drafted by the Idaho Recreation Council (IRC) which can be found 'here' or on the sidebar link.)
Rep. Gestrin was quoted as saying "Many times, we could ride in their states, our neighboring states, and not be charged, and we'd reciprocate," he said. "Well, some of those states are starting to charge our riders, so (Idaho riders) feel like it's time to reciprocate."
Rep. Gestrin's statement is patently false with reference to our neighbors of Washington and Montana.  However, if Rep Gestrin's draft Legislation becomes a bill, then law, it will be a certainty his statement will become true and we will lose reciprocity with our neighbors and be required to pay their sticker fees in addition to Idaho's.
The purpose of this legislation is to increase funding for our trails.
On the surface, having non-residence help pay the bill for our trail maintenance may sound like a good idea.  However, requiring non-residence to pay-to-play will eliminate reciprocity with all other States.  The loss of reciprocity will hurt OHV users in North Idaho the most since our off-road recreational opportunities are divided between Washington and Montana because it's only about 75 miles from boarder to boarder making them part of our region.
In addition to Idaho's more than reasonable $12 OHV sticker fee, do you also want to pay Washington's $26 fee and Montana's $27 fee per OHV?
PANTRA's position is that the legislation being drafted will unfairly penalize OHV users in the Panhandle region by requiring us to pay as much as $65 a year per OHV to be able to ride in our area due to the loss of reciprocity.  The $260 fee it would cost a family of 4 would be enough to keep many families home.
PANTRA's proposed alternative is to increase Idaho's current OHV registration fee from $12 to an amount that would provide enough funding for trail maintenance.  This proposal would distribute the cost of trail maintenance fairly and equitably to all of Idaho.  Even if Idaho's OHV fees were doubled to $24, it would still be lower than the surrounding States making it a bargain.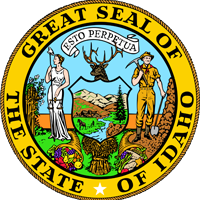 We are asking our members, and other OHV users who would be affected by this legislation, to write letters, emails, and make calls to Rep. Terry Gestrin and your local Representative and voice your objection to this RS/legislation that would eliminate reciprocity with our neighbors.
Click links for contact/email information:
Idaho District 1:
Idaho District 2:
Idaho District 3:
District 4:
Idaho District 5:
Idaho District 6:
Idaho District 7:
You can identify who your legislatures are by which district you live in on the map below and email your comments to them from this link (https://legislature.idaho.gov/about/contactbydistrict.cfm).   At the link, just select the district you are in from the drop down menu and select "search".  Your representative's contact information, including email, will be there.  It's easy and it's quick!
Non-residents who will be affected by the proposed legislation are encouraged to contact our Idaho Representatives also.